Extra Event Publicity
As well as shop poster distribution we offer a range of event publicity services for advertising events. we can put together a package incorporating some or all.
Correx Advertising Billboards
We supply the added event publicity service of putting up correx billboards to advertise your event. this is a good way to add extra impact to a shop poster distribution campaign. Correx billboards are a highly effective way of advertising fun-fairs and circuses but different local councils have different views on the legality of displaying posters. We can advice you on the particular rules and response each local authority will have to this medium of advertising.
We can also apply in the correct manner for the deemed consent needed to display these billboards legally….
[button color="" url="https://www.facebook.com/notes/a-z-poster-distribution/3f-control-of-advertisements-town-and-country-planning-act/366845912561″]Read More[/button]
Banner Displays
Big banners all over your target area are another good way to add impact to your poster campaign. The most effective event publicity campaigns use a variety of media to hype up an event.
Leaflet Distribution
Here at A-Z Poster Distribution we offer a variety of forms of leaflet distribution to help with your event publicity
Leaflets on shop counters ( Free with shop poster campaign )
Leaflets distributed to schools (very effective form of targeted advertising for funfairs and circuses)
Door to Door leaflet distribution.
Street promotion teams
Mobile Billboards
We can provide a variety of mobile billboards including this quirky one seater Ad-Van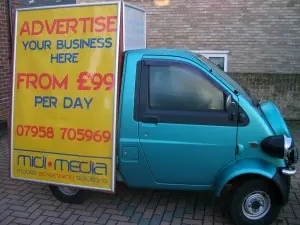 Call A-Z Poster Distribution Now
01753 569 543