Busy end to the 2015 summer season here at A-Z Poster Distribution advertising numerous firework displays.
Bromley Fireworks
Fri 30th Oct
There's something for all the family, including a funfair, Norman Park in Bromley. Admission costs £5 on the gate and is free to children under three. There is limited free parking on site.
Posters for this event in shops over a wide area
Ripley Bonfire
Sat 31st Oct
The Ripley Bonfire is one of the best supported bonfire events in the South East. Taking place on the last Saturday of October, it attracts up to 15,000 people. As well as the bonfire and spectacular firework display there is an extensive funfair, food stalls, a bar which has a perfect view of the bonfire and fireworks with live music.
Look out for the posters in the shops
Lordswood Fireworks 
Weds 4th Nov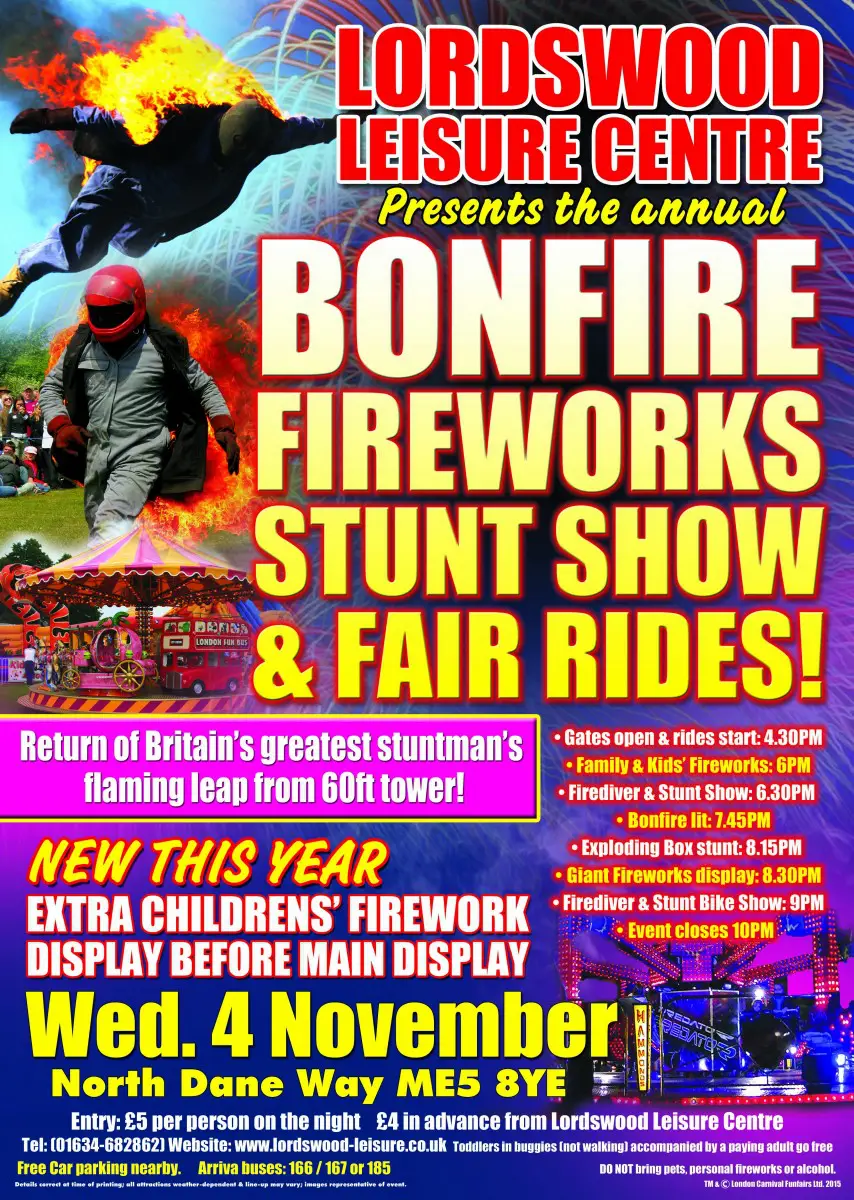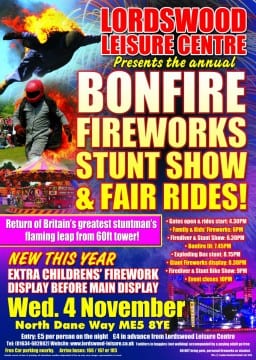 Lordswood leisure centre's annual firework display, stunt show and funfair not to be missed.
Look out for posters in surrounding areas
Flamingo Park Fireworks
Thur 5th Nov
Large firework display and funfair at Sidcup's Flamingo Park
Information on posters in local shops
Brent Fireworks
Thurs 5th Nov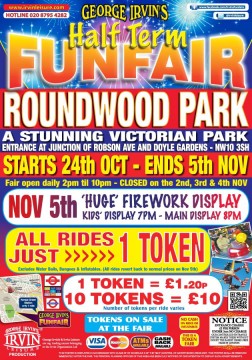 Brent's free fireworks show on Thursday 5 November at Roundwood Park, Harlesden Road, NW10, gates open at 6pm.There will be two displays on the night.
7pm – children's display that will incorporate low level fireworks and will be less noisy than the main display.
8pm – main display that will feature large fireworks and will be very noisy.
The funfair will also run at the park on Fireworks Night and will be on during half term from 24 October to 1 November in Roundwood Park.  There will be a few hot food stalls inside the park and plenty of hot drinks & snacks to buy on the night.
Please remember no pets, personal fireworks or alcohol.
See posters for more information
Harrow Fireworks
Sat 5th Nov
This year the Harrow Fireworks Festival is magical themed.
Gates open at 3pm and fireworks start at 7.30pm GET THERE EARLY!!!
We are much more than just the average fireworks display and 2015 will be our biggest  year yet, as we invite Brent, Barnet and Hillingdon to come and play. Harrow Fireworks Festival is on Saturday November 7th 2015 in Byron Park, Harrow.
Cranleigh Bonfire
Sat 7th Nov
Famous Torch light possession, bonfire, fireworks and funfair..not to be missed!
Look out for posters in local area
Blackheath Fireworks
Sat 7th Nov
Blackheath fireworks are one of London's biggest displays and attract crowds of 100,000 people
Full details can be found on posters covering local area